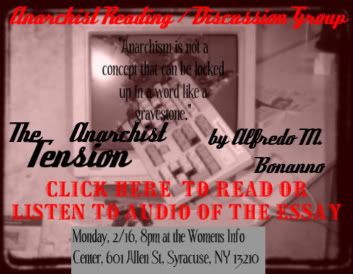 The study group will be meeting again this Monday, February 16 at 8pm at
the Women's Information Center, 601 Allen St, Syracuse, NY 13210.
We'll be reading and discussing "The Anarchist Tension" an essay by
Alfredo Bonanno.

The essay is available here:

http://www.geocities.com/kk_abacus/ioaa/tension.html

or audio:
http://www.audioanarchy.org/tension.php


or pdf:

http://zinelibrary.info/anarchist-tension

Read more!